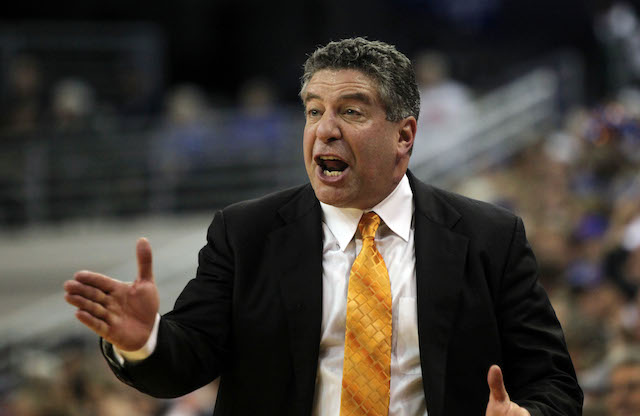 As the season winds down, the coaching carousel is just beginning to pick up. Which coaches have been fired, which jobs are opening up, and which coaches are being looked at as possible replacements? We've got everything you need to know about 2014 coaching hirings and firings.
We will update this list as moves continue to happen.
Out: Lewis Preston. Preston took a leave of absence in early January, and then it was extended until the end of the season in late January. And now Preston and Kennesaw State have parted ways. In Preston's three seasons at the helm, Kennesaw State went 12-80 overall and 5-49 in the Atlantic Sun. This season, the Owls finished at the bottom of the standings for the third straight seasons, going 6-25 overall, 3-15 in the league.
Out: Brad Huse. Four straight losing seasons caused Huse to resign after a 14-17 campaign in which Montana State lost its last three games to drop to 9-11 in the league. Huse never won more than 15 games during his eight seasons at the helm, finishing with a 107-133 overall record during his tenure. Huse had previously been an assistant coach at Montana and Montana State.
Out: Ken Bone. After five seasons of Bone in Pullman, Washington State is going in a different direction. He has two years left on his seven-year deal with the Cougars, with about $1.7 million remaining to be paid. Bone was 80-86 over his five seasons in Pullman, but just 23-40 the past two seasons. Washington State finished 10-21 this past season, going 3-15 in the Pac-12.
Out: Steve Donahue. One week after reports surfaced saying that Donahue would return to the Eagles, Boston College announced that he was being fired. The Eagles were one of the biggest disappointments in college basketball this season, going 8-24 overall and 4-14 in the ACC. In four seasons at Boston College, Donahue made zero NCAA Tournament appearances. He went 21-13 in his first season after taking over for Al Skinner, but is just 33-63 since then.
Out: Pat Knight. The son of Hall of Fame coach Bob Knight was fired in mid-February when the Cardinals were 3-22 overall and 2-11 in the Southland. Knight made the NCAA tournament in his first season at Lamar in 2012, but went just 6-50 the past two seasons. Lamar's interim head coach until the end of the season was Tic Price, who went 1-4.
In: Tic Price. He became the interim head coach when Knight was fired, and went 1-4 down the stretch of the season. Price has been in the coaching business for 32 years at the college level. He has been a head coach for 10 seasons at Memphis, McNeese State and New Orleans, going to nine NCAA or NITs. He will be familiar with the Southland Conference after spending six seasons (five as a head coach) at McNeese State.
Out: Tony Barbee. The first high-major job to open this season happened less than two hours after Auburn was bounced from the SEC tournament. Barbee went 49-75 in four seasons with the Tigers, never winning more than six conference games in a single season. This season, Auburn finished 14-16. Expect a variety of names to get involved with this job, from former head coaches Bruce Pearl and Rick Stansbury to up-and-coming head coaches Mike White and Donnie Tyndall.
In: Bruce Pearl. The former Tennessee head coach has been yearning to get back into coaching with his NCAA show-cause penalty expiring in August. And now he has, getting hired to turn around an Auburn program that hasn't won more than six SEC games in a season since 2009, when Jeff Lebo was at the helm. Pearl replaces Tony Barbee, who went 49-75 in four seasons with the Tigers. It's an absolute home run of a hire for Auburn. Pearl has proven he can win at different levels, he can recruit different areas, and he's a terrific promoter and marketer for a program. With the NCAA issues in his rear view, it won't be long before he's winning at Auburn.
Out: Jason James. The Skyhawks' season ended on Saturday, March 1. James was fired on Monday, March 3. James had spent 12 seasons at UT-Martin, as the head coach for the last five seasons. He went 37-117 during his head coaching tenure, leading the Skyhawks to the Ohio Valley tournament twice during his five seasons in charge. The school has begun a national search for his replacement.
In: Heath Schroyer. Schroyer is expected to be named the head coach at UT-Martin later this week. The UNLV associate head coach has a relationship with UT-Martin athletic director Julio Freire from when Freire was at UNLV. Schroyer was the head coach at Wyoming and Portland State, and has been at UNLV since 2011.
Out: Jim Yarbrough. Finishing above .500 in five of his first six seasons with the Lions wasn't enough to save Yarbrough, as the team has racked up three straight losing campaigns. This season, SE Louisiana went 12-18 overall and 7-11 in the Southland Conference. Yarbrough was 133-135 in his nine seasons at the helm.
Out: James Johnson. After just two seasons at the helm, the Hokies let Johnson go. He was an assistant under Seth Greenberg for five seasons, then took a job at Clemson — before returning to Blacksburg two weeks later to replace Greenberg when he was fired. It's been a struggle for Johnson, who won just two ACC games this season. In two seasons with Tech, Johnson went 22-41 overall, 6-30 in the ACC.
Out: Cliff Warren. After nine seasons in Jacksonville, the combination of a new athletic director a 12-18 record this season cost Warren his job. The Dolphins finished in the top three of the league in five of his nine seasons, but they have gone just 34-58 in his last three seasons. Jacksonville hadn't finished above .500 in the league since 2011. Prior to arriving at Jacksonville, Warren was an assistant with Georgia Tech, Siena and Mount St. Mary's.
Out: Stan Heath. The second high-major job of the carousel to open was South Florida, as Heath was let go after six seasons with the Bulls. Heath went 97-128 during his tenure, going to one NCAA Tournament and one NIT. This season, South Florida went 12-19 overall and 3-13 in the first season of AAC play. Heath had spent five seasons at Arkansas before taking the South Florida job.
Out: Tom Herrion. After four seasons, the former Charleston head coach and Pittsburgh assistant was bought out by the Thundering Herd. He went to the CIT and NIT his first two seasons, but they were just 22-41 the past two seasons — including 11-22 this season, setting a program record for losses in a season. Overall, he went 67-67 in his four seasons at Marshall. Dismissals and suspensions didn't help, either.
Out: Ben Braun. While there was some question regarding whether he was forced out or resigned, Rice will be looking for a new head coach next season. Braun compiled a 63-128 record in six seasons at the helm, with just one winning season. The former Eastern Michigan and California head coach led the Owls to a 12-49 record the last two seasons, going 2-14 in Conference USA this season.
Out: Frankie Allen. The Hawks let Allen go after six seasons, in which he compiled a 42-139 record and never won more than 11 games in a single season. This season, UMES went 6-24 overall, 4-12 in the MEAC, and was bounced in the opening round of the conference tournament. Allen was previously a head coach at Virginia Tech, Tennessee State and Howard.
Out: Max Good. Good's contract wasn't renewed after five and a half years as the head coach of the Lions. He took over three games into the 2008-09 season, when Bill Bayno was forced to resign due to health issues. Good went 77-117 during his time at Loyola Marymount, winning the WCC Coach of the Year award in 2012. This past season was filled with injuries. Former NBA head coach Mike Dunlap has been rumored with this job.
In: Mike Dunlap. It only took one day for the Lions to announce a new hire, and they went with Dunlap, who graduated from LMU. Dunlap most recently was the head coach of the Charlotte Bobcats in 2012-13, but has been an assistant with Arizona, Oregon, St. John's, as well as the Denver Nuggets. He's known as a basketball mind and a terrific Xs and Os guy, but recruiting will be a major factor on the West coast.
Out: Buzz Peterson. A hire that was surrounded by optimism turned sour after four straight losing seasons. Peterson went 42-82 in four seasons, never winning more than seven CAA games. This season, the Seahawks finished at the bottom of the league, going 9-23 overall and 3-313 in the conference. He had two years left on his contract, meaning the Seahawks had to eat more than $800K of his salary.
Out: Travis Williams. The Tigers only gave Williams two seasons before letting him go. He took over in 2012 after head coach John Cooper moved on to Miami (Ohio). However, after going 18-15 in his first season, Williams and Tennessee State struggled to a 5-25 record this season, failing to qualify for the Ohio Valley tournament.
Out: Louis Orr. The former Siena and Seton Hall coach did not have his contract renewed after seven seasons with the Falcons. Orr finished above .500 just once during his career at Bowling Green, going 101-121 overall. He reached the NIT once and the CIT once. The Falcons went 12-20 this season, falling to Northern Illinois in the opening round of the Mid-American Conference tournament.
Out: Joey James. James was given the interim label after longtime head coach Dave Boots suddenly retired in early September. Boots had been at the school for 25 seasons. The Coyotes announced in mid-March that they would be hiring a search firm to help look for a permanent head coach. They went 6-8 in the league this season, finishing 12-18 overall.
Out: Jason Capel. The former North Carolina Tar Heel was let go after four seasons with the Mountaineers. He went 53-70 in his four seasons at the helm, finishing 9-21 this season. Capel had been an assistant for just one season at Appalachian State before getting the head coaching job. Murray State assistant Matt McMahon — a former assistant at App State for 10 years — could be an option.
Out: Todd Howard. Howard has struggled since taking over the Jaguars three seasons ago. He went 6-26 in each of the past two seasons — finishing in last place in the Summit in both years — after going 14-18 in his debut season at the helm. Overall, he was just 26-70 in three seasons. Expect some high-major assistants in the Midwest to get some interest in this job.
Out: Clarence Finley. Finley was named the interim head coach after Corliss Williamson left to become an assistant coach with the Sacramento Kings after spending three season as the associate head coach. The Bears are 8-19 this season with two regular-season games remaining.
In: Russ Pennell. According to ESPN.com, the former Arizona and Grand Canyon head coach has been named the permanent guy at Central Arkansas. Pennell spent three seasons at Grand Canyon before being fired last season, but was also on the Arizona staff and served as the interim head coach when Lute Olson was battling health problems in 2008-09.
Out: Mike Jarvis. In late February, reports emerged that FAU was set to fire Jarvis at the end of the season, but he opted to resign instead. Jarvis had been with the Owls for six seasons, finishing below .500 in five of those seasons. He had just one year remaining on his contract. One name to keep an eye on for his job is Florida assistant Matt McCall, a former assistant at FAU.
Out: Greg Jackson. Jackson was fired in late January after 14 seasons with the Hornets. He left the school with 200 wins, one shy of the school record. Delaware State was 4-15 under Jackson this season, going winless in six MEAC games, but had won three MEAC regular-season championships in Jackson's tenure. He also led them to the school's first-ever NCAA tournament in 2005. Assistant coach Keith Walker was named the interim head coach while the school searched for a replacement.
Article SOURCE: this factual content has not been modified from the source. This content is syndicated news that can be used for your research, and we hope that it can help your productivity. This content is strictly for educational purposes and is not made for any kind of commercial purposes of this blog.